Adventures around the world
On this page we will tell you about all the adventures and misadventures, the mysteries, the funny anecdotes, the teachings of life received, funny stories that we have lived or had to face during our travels around the world!

In the middle of the Iranian nowhere
Toudeshk (IRAN)
Bus Yazd - Isfahan.
I will never forget the face and expression of the mustachioed driver of our bus from Yazd to Toudeshk... after three hours of traveling along a very arid desert landscape where a small village rarely appeared around a mosque ... suddenly the bus stops ... we look out the window ... the nothing ... 35 ° degrees in the shade ... all the passengers look at each other wondering if something had happened ... the driver approaches us shouting: Toudeshk!
We go down ... rest our backpacks on the dusty ground and, worried, he looks at us with a very expression eloquent of the type: "And now that xxx you do here?"
Pretending that we know our business, we smile at him and wish him a safe journey! The bus restarts ... the scene is comical ... even Nora looks at us puzzled!
We burst out laughing and we move towards the only hut ... a plump man appears, looks at us and says: " Mohammad Jalali "(the name of the owner of the guesthouse booked by the bus terminal on the fly) ... as if it were a code word, I nod and two seconds later we find ourselves piled on a pick up with our backpacks and stroller in the back between cement bags and lime! Fortunately it leads us to our guest house! We will spend one of the most characteristic and unforgettable nights of the entire trip to Iran!
An airplane over our head
Maho Beach (ST MAARTEN)
The sea is so clear and transparent that it gives you the impression of being soaked in a swimming pool ...
Run, jump and PUFF ... plunge into the Caribbean Sea....
Under water, in complete relaxation, without noise I enjoy this sensation of lightness interrupted when I suddenly feel Gianluca touching my shoulder in agitation ...
I immediately burst out with my head out of the water, hearing an infernal noise, just as a huge Air France Boeing is passing a few meters from me making me almost take a shot!
Unexpected visits
Maun (BOTSWANA)
On board some mokoro (a sort of local pirogue made from a large trunk) we set off to discover the legendary Okavango river, sliding slowly and silently over its waters, almost caressing it with honey!
At a certain point our polers stop, argue heatedly in a low voice ... they seem very worried ... suddenly a large hippopotamus pops out of the gloomy seabed, little would be enough to sink us ... this is the animal you reap more victims in absolute Africa, and indeed, our companions are very intimidated and carefully study every single movement ... Fortunately, he looks at us a little dumbfounded, stops for a moment but then disappears of new ... better to change air ... Go!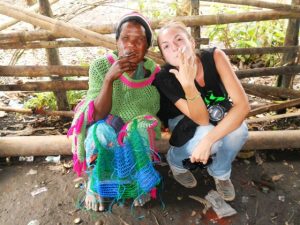 Living without the registry office
Mt Hagen (PAPUA NEW GUINEA)
In a remote village in the Highland of Papua New Guinea, a violent downpour suddenly breaks out. We find shelter under a wooden shed where there is a lady who is rolling tobacco in a small piece of newspaper. Stefy begins to have a chat and one of the first questions falls on his age. She candidly and serenely responds that she didn't know ... but promptly a friend intervenes, she knows it and says that she should be between 20 and 40 years old!
Energy alarm clock
Queen Elizabeth NP (UGANDA)
It's 5.30am in this Spartan camp at Queen Elizabeth National Park. Outside it almost dawns. The two rangers yawn sitting on a log in front of the remains of the hearth that warmed them all night.
There are still the footprints of two large hippos near our tent.
Still sleepy I head to the "bathroom" ... Ernest, our guide, is already taking his tent apart ...
I nod to him ... a few meters from me a huge elephant tears whole branches with the proboscis and then chews them like chewing gum ... I smile to myself thinking of how different my awakening in Italy may be ...
Maybe it's better to do it at open air rather than Turkish one meter from the pachyderm ... Ernest continues to dismantle ...
What peace in the morning, only the deaf noises of the hippos not far away ...
But now I have to rinse myself face ... the fountain is next to the big pachyderm which, however, does not deserve a look ...
I approach it just as a small elephant comes out ... I block. The big elephant strips strongly and shakes his huge ears ... I froze ... I step back ... Five or six other elephants come out ... I turn to Ernest... where is he? He runs in the opposite direction ... and even if the African guide runs ... Run!
Adrift due to the current
Roatan (HONDURAS) 
I have the clever idea of following a group of super-equipped snorkelers on a snorkeling trip ...
Too bad: a bit 'for my mask that often fogged up forcing me to continue pit stops and especially for the lack of fins, at some point I find myself completely alone and off ... the beach is very far away, I do not see even more Stefy, while a strong current distances me even further ... the organized group, complete with canoes in tow, has suddenly turned and I have remained completely alone, lost and with the mask tarnished.
The marine flora I admired from above was so lush and majestic that I imagined a scene from Jurassic Park. I force myself and, above all, I try to stay calm, the beach is 150 meters away, maybe more ... slowly, struggling with the waves, I slowly approach and finally, after an enormous effort, I reach the shore exhausted and collapse exhausted on shoreline. This time I saw it really bad!
Lost in currencies
Kuta (INDONESIA)
We arrive at the airport of Bandar Seri Begawan (Brunei Sultanate) and pay the exit taxes from the country with the last 24 dollars of Brunei.
While we wait for our plane we decide to have a coffee in one of the airport bars paying with 2 Singapore dollars.
Three hours later we are in Kuala Lumpur, have lunch at a local restaurant and pay the bill for 15 Malaysian ringitts, advanced since last time we were in Malaysia. Shortly after we board another flight: we land in Bali: 50 US dollars for entry fees. We stop immediately to dine in a stall not far from our guest-house and for 16 Indonesian rupees we eat excellent noodles! The day ends here but: no fear, as an emergency I always had our 210 euros hidden under the T-shirt!
Tax to the policeman
Poipet (CAMBODIA)
After a long journey by bus from Bangkok we reach the border between Thailand and Cambodia.
A Cambodian policeman, regardless of the correctness of my entry form in his country or my passport photos, shows me a tag, written to pen, in which they informed foreign tourists that they had to pay an additional fee of 100 baht apiece ... without further explanation. But I only have 120 baht (instead of the 200 planned for two people) ... again they make me leave the line to follow another policeman on the sidelines. I empty my wallet in front of his eyes ... he grabs 120 baht, he nods to his superior and if he pockets them quietly ... Everything is ok, taxes paid ... to his family! Welcome to Cambodia!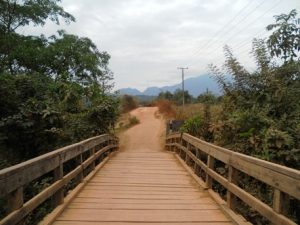 The guardians of the bridge!
Vang Vieng (LAOS)
We are in the hinterland of Laos in Vang Vieng. Today we decide to rent a scooter and to push ourselves into the wild Laotian.
We walk about forty km along uneven red earth roads, we cross remote villages, plane trees fields, streams and impenetrable forests when we are stopped by a group of people right at 'start of a bridge ... They tell us that we have to pay the toll to cross the bridge ...
Toll? Yet another ... Not this time, I have already paid two so far ... I turn around and try to cross the river with the scooter ... but it's too deep ... we have no alternative ... Under the amused and arrogant gaze of the "paladins" of the bridge, at a walking pace I approach the little group that was already preparing to collect the tribute ... we are now one meter from them when I suddenly accelerate, almost losing Stefy if I don't waiting, flying over the bridge, I cast a glance just in time to see their astonished eyes!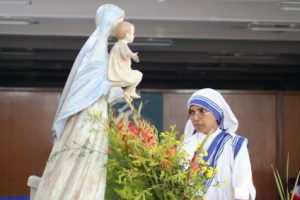 Fashion from Mother Teresa
Kolkata (INDIA)
We really wanted to visit the places where the Holy Mother Teresa spent most of her life and her work in Calcutta. After a long and moving chat with an elderly nun who told us anecdotes of life lived and shared with the Holy Mother, we take leave of her with her eyes still shining when a girl from Eastern Europe timidly approaches, very embarrassed, turns to to Stefy asking: "Excuse me, can I ask you where you bought these pants? They are beautiful ... "
Good night in the hut
Alleppey (INDIA)
We are in the beautiful region of Kerala, in India! Let's go back to the room after a romantic fish-based dinner in our usual restaurant: Mushroom.
Spend a few moments when I hear a scream of terror coming from the bathroom.
I reach Stefy and I notice that, frightened, she points to a huge spider that he quietly rests on the wall beside the toilet. I am not exaggerating when I say that it was huge!
Never saw one so big live except at the zoo. It must have been as big as my hand.
It wouldn't be difficult to kill him, but first I want to understand who I'm dealing with.
I immediately call Johnson, the manager of our Guest House. While he reaches us he tries to diminish what happened trying to reassure us but his face changes when I show him the spider.
This phenomenon, instead of killing him, tries to capture him alive by creating a huge mess and being able to make him escape giving him the chance to hide somewhere in our room! He turns to us and tells us candidly: " Everything is ok. There is no more ".
Shout it!
A little embarrassed, he leaves us wishing us a" good night "!
And who has slept!

Let's go ... naked?
Udaipur (INDIA)
We are in Udaipur, in northern India. Stefy is struggling with her big backpack.
We will soon have our train to Bombay.
He has just finished taking a shower and, finally, still in his bathrobe, closes the last string of the enormous backpack.
"Done"- she exclaims satisfied ... when, suddenly, she turns to me and with a bewildered air she says:"Nooooo, I forgot to leave my clothes out for the trip "!

Best wishes for good luck
Varanasi (INDIA)
For some days we have been wandering around the exciting Varanasi. It's all a ritual, a ceremony, everywhere sadhus, holy men, charlatans, faithful, pilgrims ... The sacredness of the place can be breathed in the air ...
In one of the many cremation ghats, in a mystical and still super smoked atmosphere from the many incenses, immediately after having received the blessing from two old holy women who sent us their "good karma", I leave a lavish offer, I go out, I take three steps and, with flip-flops, I step on a big cow shit ...
Is it a good omen?
First class travel
Pokhara (NEPAL)
Il bus Pokhara – Sarangkot, in Nepal, è pieno come non mai, ogni tanto si ferma per imbarcare altri passeggeri.
There is no longer even a centimeter free inside, then the driver begins to make them sit on the roof as well. People, without blinking, climb the very unstable ladder and look for a place on the roof of this colorful rickety bus.
At one point I even saw a woman pass her son a few months from the window and entrust him to complete strangers sitting in the front row (inside) while she climbed onto the quiet roof.
What a fright when we used to skulk around gullies of which we couldn't even see the bottom ... I, meanwhile, am like a sardine, with a little goat between its legs unaware of its destiny, it was carried to the top of Sarangkot mountain for a sacrifice ...

Long delivery times
Pokhara (NEPAL)
We leave our bag with dirty clothes in a laundry in Pokhara, Nepal, in a few hours they should be ready!
I take the receipt and I am stunned reading the expected withdrawal date: 16 October 2068! What?
"Aò, but how long do you spend washing these clothes?"
Fortunately it was only the following day but according to their Hindu calendar!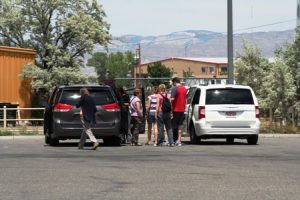 Our car on fire!
Death Valley NP (USA) 
Today long day of transfer from Death Valley to Bishop, California ... Our car struggles uphill and downhill, we're not really used to automatic transmission and we can't manage it the way we should.
The car that follows us, with our friends on board, suddenly stops. I glance quickly through the rear-view mirror and see the front in flames.
Panic.
Suddenly we descend and rush to the aid of our friends with all the water jerry cans in our possession. With blows of water we try to limit the damage and in a short time we manage to tame the flames.
Fortunately the car is not damaged to the point of being no longer reusable ... It ends only with a big scare!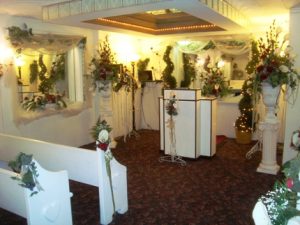 Are we getting married tomorrow? Ok
Las Vegas (USA)
You know, Las Vegas really is a crazy city! We decide to visit one of the many chapels of love where with $ 55 you can get married in a few minutes.
Just a simple identity document!
You don't need anything else because inside each of them you can "rent" everything, from the wedding clothes to even the wedding witnesses!
While I am intrigued, reading the various offers, right in front of me, a receptionist answers the phone and:
" Oh yes, we have availability on Wednesdays at 4.00pm. What time would you prefer to get married? Okay tomorrow then! "

The most expensive tea in the world
Venice (ITALY)
Venice is definitely a super romantic city but, in winter, with all those wet canals, the cold feels amplified ...
Looking for a little warmth we take refuge in a bar, NOT FAR, from the famous Piazza San Marco. We don't want to be "plucked" like unprepared tourists! We believed that the distance was enough to avoid being "treated" by "average tourists" ...
Evidently we were wrong. Already as we sipped our hot drinks I noticed that every person who went to the cashier ended up arguing with the cashier on duty ... There and then I had not given so much weight to the thing ...
I ask for the bill and I get a receipt of € 20 for a hot tea and a chocolate ...
Ci sarà stato di sicuro un errore…. mentre mi avvicino alla cassa per far presente l'evidente errore, in un attimo collego le scene intraviste poco prima: anche noi eravamo stati fregati!
The game of the three bathrooms
Ilha de Moçambique (MOZAMBIQUE)
Today we have planted our tents on a beach, right in front of the picturesque Ilha de Moçambique!
In the middle of the night I have to go to the bathroom!
Luckily, there are three Turks, even if they are quite abandoned ... I enter quietly and sent in the first but immediately I stop in front of two large unidentified insects that rest on the wall ...
It doesn't matter, I close the door again and cautiously enter the second one ...
Thank goodness! But be careful, what looked like a simple sprig on the toilet is actually a large praying mantis ...
Step back and last attempt in the last Turkish ... Here too, a big cricket, attracted by the only light bulb in the area, gives me welcome ... but at that point I'm tired: my flip flops prints it on the wall!
I'm in a hurry.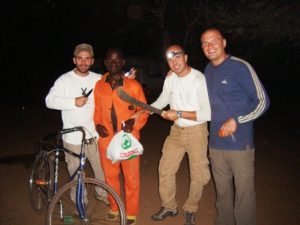 Quick deliveries
Caia (MOZAMBIQUE) 
We are on the border between Mozambique and Malawi. We camp near the Zambezi River. It is an asphyxiating heat but we can't find out much because of the malarial mosquitoes ... We charge the look of our field of buying some beer and coke for dinner ... As a reward we will offer one to him too.
Party with his bike and lit by his torch ....
Disappears swallowed by darkness ... The only lights here are those of our little torches!
A lot of time is gone but no news of our guardian ... the boys begin to get nervous, thirst makes bad jokes and almost take it out on me, creator of the whole.
I am an optimist. It can't disappear like that!
An hour and a half later, when we had lost all hope, we see him pedaling towards us, all sweaty and breathless. The usual famous African times?
No, he had to ride more than 10 km at night to reach the nearest village with his old bicycle to complete the mission. Two hours of waiting, but ... it was worth it! Cheers.

African dawn
Vilankulo (Mozambique)
We are in Vilankulo, a beautiful place facing the Bazaruto islands. After admiring some photos taken at dawn, set aside our laziness, we decide to wake up early too ...
Dark in our hut, our friend Ugo exclaims or asks, he didn't understand: "It's 5 a.m."!?!
We jump to our feet and in a few seconds, without blinking but only the teeth (due to the cold), we are outside the hut covered like snowmen and wearing everything that had happened to us ...
Cameras ready ... Anna strangely lingers ... Nick sleeps blessed ...
We meet a girl who returns to the neighboring hut I think to myself "Shit, this returns at five in the morning! "... The music of a disco on the beach not far away feels strong ... "Now? I keep thinking ... Ugo gets angry because his watch stopped at 2.37am and asks all of us for the exact time, but in haste nobody has the watch with him ... No trace of the others ...
After a while Anna becomes curious: "Dudes, where are you going now? It's three to twenty!"
We turn abruptly towards Ugo who justifies: "But I simply had asked!"
Two minutes later we were again wrapped in our sleeping bag in the arms of Morpheus ... Hi dawn!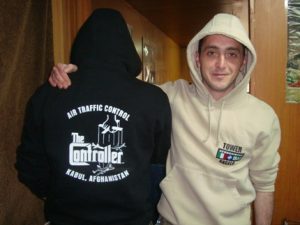 Countdown
Kabul (AFGHANISTAN) 
We have been in Afghanistan for almost seven months now and we are beginning to get homesick especially after all the tensions experienced in this long adventure. But we must not think about it too much otherwise the goal seems not to come any closer! Angelo confesses to me: "You know Mark, since I heard that there could be our return flight to Italy at the end of January, all I do is think about this date, I started to count down and since then I have not I spend a minute more ...! "
And I, reassuring him: "You're wrong to think about it Angiolè ... I try not to think that 44 days, 6 hours and 26 minutes are missing ..."

Christmas in Kabul
Kabul (AFGHANISTAN)
It is the Christmas season here in Kabul, I have been in Afghanistan for more than six months, and in such a place the holidays pass quite silently ... I meet Tuncer "Iceman", a Turkish Muslim, with a box full of candies in his hand ... I wonder : Ice, where did they come from?"
He, innocently, explains: "A Belgian soldier came dressed as Saint Nicholas and distributed them to everyone ... "
I am perplexed: "Saint Nicholas?"
And he sure: "Yes, St. Nicholas, that of your Christmas" - "Did you mean Santa Klaus?" - "Ah yes, that's right, Santa Klaus!" Merry Christmas from Kabul!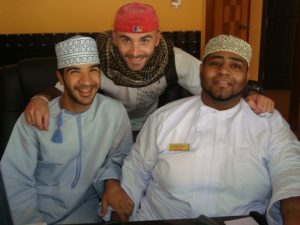 College kisses
Muscate (OMAN) 
We are in Muscate, the fair capital of the Sultanate of Oman, at the reception of our hotel there was talk of the "efzee", a kind of tobacco that is held in the mouth under the lower lip and leaves a strong taste in the mouth. And what if you have to kiss a girl?
Suliman from the height of his 150 kg reassures me that there are no problems ...
Faisal, maliciously, approaches and suggests, in my ear, to ask Suliman if he had ever kissed a girl ..
I, instead, to defend the gentle giant, I address the question to Faisal who suggested it to me. He proudly, as a playboy, declares: "Of course! I kissed her three years ago when I was in college! "

The meaning of the names
Abu Dhabi (UNITED ARAB EMIRATES) 
In one of the many Malls in Abu Dhabi, we are curious about noticing two girls who looked at us and smiled; despite the black veil and the long tunic we approach to have a chat: "My name is Zarah, which in Arabic means flower".
"My name is (I didn't understand that name) that in Arabic means gift. " says the friend.
While they talk gesturing theatrically but elegantly, they show their hands, well-kept and painted with henna ...
We, a little to play down : " My name is Mark and he Nick who in Italian don't want to say a xxx!"
While we are talking, three local boys arrive, in dark robes, long beards and turbans, who say something to me of reproach to Zarah; In response, she turns her back on them and says in English: "I don't care!" We, a little embarrassed by the situation, take our leave promptly to avoid a diplomatic incident with Muslims ...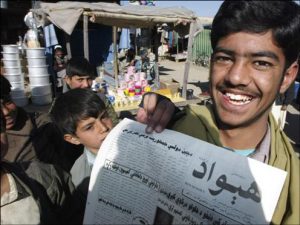 All born on January 1st!
Kabul (AFGHANISTAN) 
In the Kabul bazaar, there are merchants selling carpets, precious stones, brass lamps, etc. While I chatted with some Afghan laborers I noticed with amazement, looking at their documents, that everyone was born on January 1st ...
At first, naively, I enjoyed this thing, then they explained to me that in reality it was just a fictitious date because nobody knows either the day or the month ... barely the year ...

E.R. in Afghanistan
Kabul (AFGHANISTAN) 
Quiet evening in Kabul, Afghanistan ... I decide to go to my office to get the keys of the SUV when I find everyone on alert and worried!
Zdenko, the Czech, asks me for help.
A civilian Boeing has just landed with a patient on board ... it is very serious ... the aircraft has declared this thing only after landing and is now stopped in an airport pitch ...
Paoletto and I do not hesitate, we look into our eyes and, on our Toyota, let's run to the hospital.
We find an elderly German doctor and a Portuguese nurse next to the ambulance in agitation ... The ambulance driver is missing ...
There is not a moment to lose ... My friend jumps on the ambulance and I make my way running towards the Boeing of the Ariana (Afghan flag carrier).
Fight against time ...
The patient absolutely needs of oxygen ...
We board the aircraft and find this guy in a stretcher completely wrapped up while all the passengers in silence observe the scene ...
The doctor rushes to the patient ... after a while, however, she turns towards us and he shakes his head ... he is paralyzed, he has a bad spine and head injury ... he was my age ...
As we try to revive him, the Afghan civilian ambulance arrives and takes him away.
This morning I learned that our intervention was useless ... the boy passed away shortly after.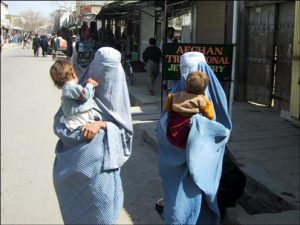 A burqa and a carbonara
Kabul (AFGHANISTAN) 
For many months now I have been in Afghanistan and staying so far away from home made me appreciate a thousand things, pasta in the first place! To me that never liked it!
Finally we find ourselves all Italians for the first time: nine compatriots, sitting carefree in front of a plate of carbonara ... how hungry ...
While we chat about this and that we hear the sound of a text message coming to one of the diners ... two seconds later to another, then another ... five minutes later we all received the same text message from the same sender: our embassy.
Pay close attention. Burqa bomber hovers near the airport ... " Bon appetit!

A bacardi breezer a Kabul
Kabul (AFGHANISTAN) 
The height of the tops.
Second day in Afghanistan on an American base. I am at the Czech Bar with my friend Angelo drinking a Bacardi Breezer (the only thing to drink besides Coca Cola) and chatting more and less when we receive a radio call ... Emergency in one of the airport Apron ...
We jump on our Land Cruiser and not even the time to do 100 meters that the IMP (International Military Police) stops us ... The Polish policeman on duty with the laser pointer had detected that I was going to 27 Kmh (I was driving), the limit was 10 ...
He asks for my driving license and ID Card ...
For the procedure I have to do the alcohol test ...
I don't believe it ... The only time I drank in my life since I am a teetotal ... they make me the balloon test ...
Result: 0 , 05% I ask hopefully: "What is the limit?" He freezes me with a dry : "Zero".
We explain the emergency situation in progress and fortunately he understands even if he even gives me the lecture telling me that I don't have to drink anymore ... I? I am a teetotaler !!!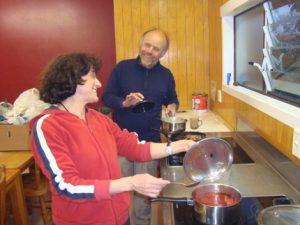 Italian cuisine
Tongariro (NEW ZEALAND) 
After the epic climb of Mount Tongariro, in New Zealand, certainly the best trek of my life, we all finally find ourselves in the hostel for a well-deserved rest.
Pina cooks a plate of pasta with sauce with skill when I notice a man with a pan with miserable charred sausages looking at her open-mouthed ...
I approach and say: " Dude, italian style!"
He takes a look at his poor sausages and says disconsolately: " This is French style"!

Mysterious animals
Puerto Iguazù (ARGENTINA)
We are in a place much loved by geography enthusiasts! Iguazu, border between Argentina, Brazil and Paraguay! Entering the forest we met so many different animals ... from colorful birds to fabulous butterflies, to crocodiles, strange lizards, iguanas etc ...
While we were walking enjoying the spectacle of the famous waterfalls, a Brazilian gentleman approached and warned us by saying: " Beware, 50 meters ahead there is a quati " and goes away ...
" What did he say? What? ? "We: two Italians, two Germans and a Dutchman, we stop and look at each other while our Brazilian (Fernanda) tries to explain to us what I am" quati "...
Worried about the flood of questions, just to understand who we might be dealing with: " Do you have wings? Bites? Is it a reptile? Vola ? "
What laughter ...
And poor Fernanda who was waving to explain us but with poor results ...
Every animal that we glimpsed we turned to Fernanda asking:" Is this il quati "?
Just when we had lost hopes, a kind of badger, quietly, as if we weren't there, he passes his feet in front of us and slips, on his own, into a bush ...
I still don't understand what were it really ...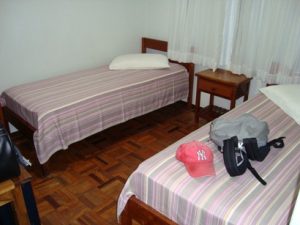 Nightmare night in Iguazù
Foz do Iguaçu (BRAZIL) 
We arrive at three in the morning, due to various delays with the flights, in this posada immersed in nothing in Foz da Iguaçu, the border between Brazil and Argentina ...
The door is opened by a very kind 50-year-old lady with long gray hair, a black robe until at the foot, very skeletal and with a grim smile warns us: " I was waiting for you " ...
Only a little music was missing in the background that seemed to be on the set of the film "The hostel" or in a classic horror ...
He takes us slowly into the room: small, empty, gloomy and dimly lit ... Nick and I, absolutely not envious of Fernanda who had taken a single, barricade ourselves inside, even shut the window with my personal lock ... We fall asleep hoping that everything goes well, even if Nick continues to mumble fearing to lose a few kidneys.
The next day we find out that they were just our groundless conjectures ... even if our advent partner had tried the same fear ura: William had fallen asleep that night thinking: " Tonight s omething will happen "! [Something will happen tonight] ...

A trip to the favelas of Rio?
Rio de Janeiro (BRAZIL)
We are in the hectic Rio de Janeiro! I stop a taxi and explain that I would like to approach the Sao Conrado favelas to take some photos; I can't leave Rio without experiencing the thrill of visiting one of the famous favelas!
He immediately freezes: " I'm not going there "!
Let's try to convince him but in vain, we can only get ourselves carried nearby but without entering ...
Will we be unconscious? We will see.
We head towards the Flamengo stadium, nearby there is a tunnel that comes out right at the entrance of this community, the largest in South America.
The tunnel is long and gloomy and as we walk along it I imagine what could be there and move over it ...
Finally the light: an immense colored, decadent, dilapidated beehive appears to our eyes, the taxi driver instead of slowing down to let me take some pictures accelerates ...
He takes a long ride without enter inside and then stop in a small, fairly hidden and distant space and say: " If you want to take some pictures, do it from here and then we go away "!
Better than nothing; we do not challenge fate too much ...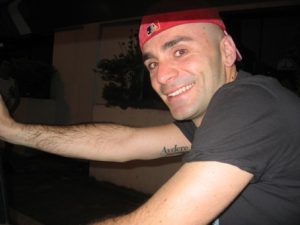 By taxi to the airport
Guarulhos (BRAZIL) 
Today we will fly from Sao Paulo, Brazil to Rio de Janeiro ... We wake up at 5.30 am ... The taxi that will take us to the airport is punctual ... In the car we laugh, we joke, we chat with the driver when suddenly his face changes and the car starts to slow down until it stops ... What's up? We worry ... Don't worry ... We just broke down ... I missed it! Push the taxi together to the first petrol station at dawn while the other motorists who passed us burst out laughing!

From the SPA to the chaos
Guarulhos (BRAZIL) 
We are in Guarulhos, not far from Sao Paulo, Brazil. Our friend Veronica will call us and, in a fast Portuguese, we understand that she is coming to get us because she has organized a morning at the " Baño Orientale " ... How cool! We really wanted a bit of relaxation in a SPA after the frenzy of these Brazilian days!
Nick and I start to look forward to relaxing Turkish baths, saunas, oils, vapors, massages, perfumed essences ... Everything is ready: swimsuit, flip-flops , bathrobe and everything you need when Veronica arrives and we discover that the oriental bath was nothing but the Oriental "BARRIO", that is: a neighborhood crowded with Chinese under an infernal heat ... Goodbye relax!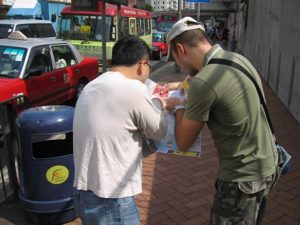 Street directions in Hong Kong
New Territories (HONG KONG) 
We are in the chaotic Hong Kong. We love to explore new places by interacting with the locals and we often ask passers-by for information. We stop at a "7eleven" to ask how to reach the Nan Lian Garden ...
There are three orders ...
The first, we answer a little in English but shortly after it passes to the Chinese (incomprehensible to us). He realizes it and tells us to wait while he calls the second. This begins in Chinese but after a while he understands that it is not the case ...
Call the third, the boss! Finally ...
It begins, like a machine gun to give us clear and detailed explanations and indications, complete with gestures for about five minutes without ever taking breath, all in perfect Cantonese.
At first Nick and I look at each other incredulously, then we start laughing with tears as she spoke to us, the situation is paradoxical, she undeterred explains everything in Chinese with two folded in two by embarrassment and laughter!

The bus ticket
Tsim Shai Tsui (HONG KONG)
In a Hong Kong bus. As in England, the ticket is purchased directly from the driver. You put the coins in a box and, after paying, you can go to your place ... Having said that, I put the exact amount of the ticket and I wait for the driver to give me a sign to be able to sit down ... But not ago ... I wait a little while but a girl behind me tells me: "It is useless to wait, here we don't count the money, we trust..."!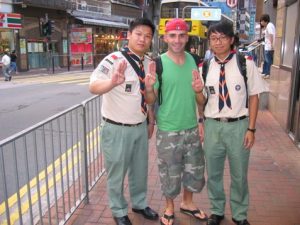 Hearted girl
Hong Kong Island (HONG KONG) 
We have been in Hong Kong for some time now but we always manage to be amazed by what happens to us. For example, I was struck by the great generosity, respect and education of its inhabitants.
When you ask for information, they almost feel indebted to help you, even if they can't mortify themselves and ask others for you! Many times we happen to open a map along the way and punctually someone stops with a: " Can I help you?"
Voglio citare un episodio su tutti: poco fa, dopo essere stati aiutati da due coppie di ragazzi a raggiungere un ufficio postale, prima di salutarci una di loro mi chiede: "Pensi che sia una ragazza di cuore?" (parole testuali) Io la guardo con un'espressione interrogativa, non capivo che intendesse. Specifica: "Pensi che sia una ragazza di cuore che aiuta la gente!" "Ma certo. Grazie, sei stata gentilissima!"
Quasi come se il mio giudizio fosse importante!

Almost arrested for Al Jazeera
Doha (QATAR) 
Qatar is most famous for its international television station Al Jazeera. Bored by the few attractions of its capital Doha, we decide to take a look to see the location of this TV.
All armored. We notice a hole in the hyper-controlled fence of the Arab TV ... we decide to go inside ... We never did it ...
There is no time to take a picture that a white car, with darkened windows, hurtling towards us and stopping screeching a few steps away from us ... An Arab with a long black beard and a candid tunic goes down, looks at us with an unfriendly look and shakes his head as if to say: " No freaking way !" He speaks only in Arabic!
A second later another big white jeep stops behind us and another Arab in a tunic descends white and radio in hand ... We are surrounded, petrified and afraid ... The latter at least understands some English and begins to ask us a thousand questions in bursts: " Who are you? What are you doing here? Where do you come from? Why did you photograph the palace? Why did you enter? Show me the photos you took! Delete them. Show me that you deleted them! "
I admit I was very afraid: in these circumstances you never know how it can end, and we were also wrong ...
I already saw myself in some Arab jail accused of international espionage ... I try to explain that we found a hole in the fence and intrigued we had entered, but neither Nick, nor they seem satisfied with my justification ... But, I don't know what happens but the one who speaks English calms down for a moment and beckons us to disappear ... We don't make him say it twice ... We are there bad sight!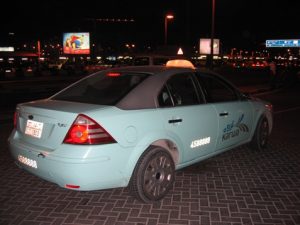 The Bengali taxi driver
Doha (QATAR) 
We are in Doha, the capital of Qatar. We must go, as usual, to the central post office.
They tell us that from here, the taxi costs about 5 Riyals (1 Euro)! But as soon as the taxi driver sees us he asks us 30!
With the second we negotiate up to 15 but we aim for 5 Riyals! Nothing to do ...
In our place a Filipino boy enters but the taxi does not leave ... I see the two chatting and at a certain point the taxi driver beckons us to come on board. We ticked it again this time!
During the journey we chat and joke with the Bangladesh taxi driver and his client from the Philippines. There is really nothing to do, we Latins are really sociable! We arrive at the National Post Office and when I ask for the fare, the taxi driver replies: " Nothing, I was on the road ...! But in Italy, when you meet people from Bangladesh: Help them ! "
I felt small!

The history of the lost stamp
Cartagena (COLOMBIA)
It all started one warm summer morning. Along a classic "Cartagenera street", with antique wooden balconies, pastel-colored colonial house walls and street vendors who wandered in search of tourists ...
Two Italians, with postcards in hand, think: " We have two free minutes, we quickly buy stamps so, later, calmly, we write and send them"! - Last famous words!
After more than half an hour of walking, they bounced from one shop to another, from a sort of post office to a travel agency, from a branch of the Avianca (flag airline) to the central post office. In vain. Not even our hotel, the luxurious and five-star Hilton had them!
In the central post office they inform us that they have them but at that time there was no principal and therefore could not sell them ... Was there no manager? Does it even take the manager to sell a couple of simple postage stamps? They ask us to come back later. Oh well we'll try somewhere else. The first day passes like this.
As we search, we learn that it takes 12,000 pesos for each postcard .. The fee of 3 euros per postcard ... Are they crazy?
We do not lose heart and two days later we return to the attack! We go around a lot until we get back to the central office. Same story as last time, the manager is not there and we should come back ... We have no choice! At the appointed time we are there on time. This time they have to satisfy us ... Long wait. Almost half an hour later, after completing a purchase form (such as bank transfer: name, surname, quantity of stamps to buy, passport number, etc.), a guy with a box of stamps descends from a distant staircase! We did it, we finally stuff it! Those postcards never arrived!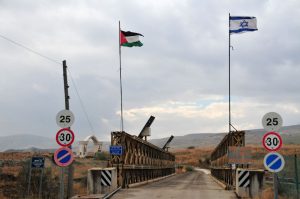 Border whiskey
ISRAEL -JORDAN Border 
After so many vicissitudes, finally, we manage to return to Jordan from Israel thanks to the help of our contact in Amman: Ahmad.
The latter, however, asks us to buy him bottles of whiskey and cigarettes at the duty free shop on the border.
We follow him. We climb over a net and enter the shop. We had to imagine, however, that such a thing on a border of two quite "hot" nations would not have gone unnoticed ...
Shortly after, my passport is in the hands of two very angry guards who scold me in Arabic and order me to follow them ... I do it and the whole group of my friends moves behind me (Nick, two Hungarian girls picked up at the border and four other Italians ). Unity is strength!
When the guard sees all those people, he stops, asks me: "Are they all with you? " - A little resigned, he gives me back my passport and tells me: "Disappear!"

Live lynching
Kerak (JORDAN)
Traveling to Jordan, along the road to Kerak we witnessed, from our van, a real live lynching.
From what we could understand: a man had invested a person in a car, at which point all the relatives and neighbors of the injured rose and threw themselves at the driver of the car with fists, kicks, blows, stones while the poor unfortunate barricatosi in his car he tried to run away.
I was very impressed to see such a raw and ferocious scene, it seemed like one of those sequences that are often seen on the news program on popular uprisings in the Middle East.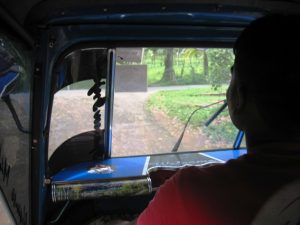 The amphibious tuk tuk
Dickwella (SRI LANKA) 
After an intense volunteering experience in southern Sri Lanka, we decide to return to Matara (43 km of tuk tuk) to greet our Belgian friend Ann. At night, without lights on the street, with our very rough tuk tuk ... It starts to rain, Nick and I look at each other without speaking but our looks are very eloquent, as if to say: "But who made it do? "
Our tuk tuk sailed uncertainly in those torrents of mud, skirting the stormy ocean, while all sorts of vehicles: from bicycles to big trucks swept us and avoided us at the last moment making us wince every time.
All of a sudden he starts to climb on a road never seen before ... I ask him: "Are you sure it's the right way?" And he: "No" And it continues as if nothing happened were he to walk it while from outside we get only water. I begin to get nervous. The intimate to stop and ask for information. He: "Ok" . But it continues as if nothing had happened.
I lose my patience. I stop him, ask information from an elderly woman with her niece, lend my cell phone to the driver and call Lucky, our contact. Right move, let's start again and finally, after various adventures, we arrive safely at destination!

The ghost post office
Matara (SRI LANKA) 
As usual, I have to make a quick jump to one of the many post offices in the places I visit. We are in the south of Sri Lanka. Out and about with our tuk tuk, I stop it as soon as I see the mail symbol in the distance, I have to buy stamps ... Inside and inside there's a poor desk, an old cabinet, a blue poster of a local politician and no one ...
Documents, papers scattered here and there ... But no employees! I go out, ask for information and someone tells me I could try knocking at someone else's house and ask for a postman not far from there ...
Well, better try somewhere else!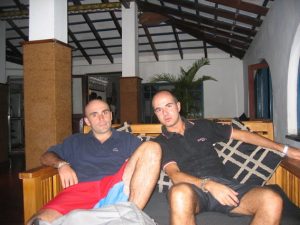 Tsunami alert
Dickwella (SRI LANKA) 
t is my birthday and we are in the southernmost part of Sri Lanka, one of the most devastated by the 2004 tsunami.
Mark is taking a shower, Nick is in bed writing down his latest diary adventures when a boy of staff we fall in the room screaming that there is danger tsunami and run away.
In a few seconds we are at the reception, we are very agitated, above all thinking back to the catastrophic damage that happened a few years earlier here.
They lead us, in a hurry, first on the disco tower, (the highest point of the resort) they say that there, the tsunami that time failed to arrive. We are more and more worried also because we are the only ones present in the hotel!
A few hours later we are contacted by a senior Belgian marine biologist who comes to our rescue offering us hospitality at his home. He lives in the hinterland, on a hill; we should be safe there. What a wink!

Uninvited guests
Dambulla (SRI LANKA)
We are in a bungalow in the Sinhalese jungle.
One evening we come back dead tired in the room but we are immediately struck by a strange black spot on Nick's backpack ... We struggle a little to get rid of it ...
From that moment, in addition to "plugging" every small hole with the outside (even that of the door with socks, flip-flops and shoes) it will become a custom the short check when returning to the room after a day spent outside. At the end of the trip no one was missing from the appeal: crickets, religious mantises, large cockroaches ...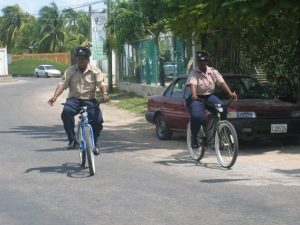 The Belizian policeman
Belize City (BELIZE) 
We are in the small central American state of Belize and we should return to Mexico where we have all our belongings, our backpacks, money, etc.
We were left with little money because of problems with the ATM, we try in every way to find out if there is an exit tax from the country and if so how much it would amount to so as not to be in trouble once we reach the border!
We run a lot of offices both of the police and of the local finance without result until a wise agent gives us the fundamental "right", he advises us, seriously and seriously: ! " Ah, finally, having solved this great question we return to enjoy the visit of the city, with the doubt whether he was joking or serious!

"L'Europa è lontana"
Pararapuru (PANAMA) 
In the green Panamanian jungle, trying to interact with a tribe that has not had much contact with Westerners ... suddenly a man approaches me from a distance staring at me ... In a broken Spanish he asks me: " Where you come from, from afar ? "-" Italy! "I answer, sure.
"Ah!" and continues to observe me with the air of someone who is not very convinced, then he takes courage and continues: " And where is Italy, far away ? " - A little surprised by this last question, I reply:" It is in Europe! " ... he nods and continues to look at me a little perplexed, at this point I advance:" Do you know where Europe is? " - and he shyly shakes his head. I say tenderly: "Far, my friend, far away!"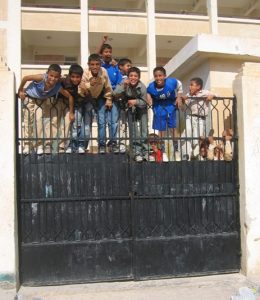 The mysterious woman
Marsa Matrhou (EGYPT) 
We are in the north of Egypt, traveling with our driver on an off-road vehicle with an armed escort.
Our attention is struck by the cries of kids ...
They come from an elementary school nearby. We approach it and immediately we see that a lot of screaming children climb up the main gate to have a party.
Suddenly a woman comes out of nowhere, with a black burqa and in a good English, but abruptly asks us: " What do you want?" I intervene to calm the situation, she looks at me a little and he begins to distance himself from us by coldly saying: " Follow me!" ("Follow me" ); a little perplexed and amazed, we decide to follow her ... Suddenly we see our two drivers rushing towards us, urging us to stop. Shortly after we were back in the car with them, away from that school ...
We have never been able to discover the reason for the fear of our drivers when they saw us follow the "phantom woman" and to make this story even more mysterious, we also put the fact that, while all this was happening, she never turned towards us or answered something to our drivers / body-guards, and as it came, in the same way it disappeared ...

The hagheb seller
Alexandria of Egypt (EGYPT) 
We are in the ancient Alexandria of Egypt. We stop along the road by a guy who sells the " hagheb " (the colorful veils of the Muslims), in an instant, inexplicably, an absurd crowd gathers, so many women want to buy these veils. The peddler, noticing the big crowd, moves to get another bundle of new veils and leaves a dozen in my hands. I, without even realizing it, I find myself suddenly submerged by all these women who begin to slip them from my hands, to pull them away almost as if I were giving them away. I felt embarrassed!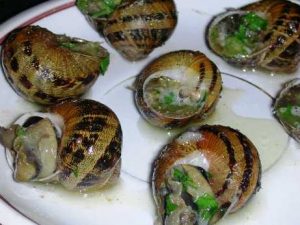 The golden cocke
Paris (FRANCE)  
We are in the famous " Latin Quarter " of Paris in search of a typical restaurant to taste some of the local specialties ... A leaflet attracts our attention. Tourist menu: " Appetizer, first and second course: 14 Euros! " A good compromise, we think! Typical Parisian Cenetta based on escargot but the stratospheric account spoils our digestion! More than twice what we expected ... " Don't worry, some calculations will be wrong ", I exclaimed ... But no! The drinks were apart, and this was known, but what had escaped us was the price of soft drinks: a 0.5L water bottle (6 euros), and with that heat we ordered too many to the bottle of a liter of coca cola (15 euros) ... Everything is fine, however, when you travel, always pay attention to these rascal restaurateurs because the quality must be valued and paid but, sometimes, you play dirty!

The sudden storm
Isla Saona (DOMINICAN REP.) 
The Dominican Republic is fantastic. Today we visited the wild Isla Saona and after 45 minutes of sailing to Bayahibe, where we stay, suddenly we are caught by a very strong and dangerous tropical storm. I even saw lightning fall into the water! What a fright! Juanito, our contact, decides to change course and head towards a small bay where shacks can be seen.
We hurried to the ground! It was a small fishing village. We take cover directly under their tin shacks under the incredulous gaze of locals watching us in silence. After a while it stops raining and, to thank them for the "forced" availability, we buy some fish, a nice pink and giant red "pargo" (more than two kilos) and many other smaller freshly caught fish. The situation improves considerably and we take the opportunity to return to Bayahibe.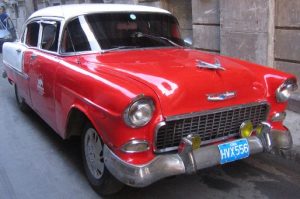 Our Taxi on fire
LA Habana (CUBA) 
Around the magical Havana, Cuba. Here is our taxi: a very old Cadillac, without options, or rather, without even the basic things such as brakes, seat belts, door handles, etc .; not to mention the mechanical part ... Sinister noises and strong odors from the bottom ...
This car was only ignited by pushing!
Half way the driver had to stop due to the strong smell of burning, he opened the bonnet and a wave of black smoke wrapped it ... it looked like a cartoon scene, too bad though we were suffocating because of those poisons.

Abandoned on an island of Cape Verde
Ilha Boavista (CAPE VERDE)
Ilha Boavista Flight - Ilha do Sal 5.10pm. Cape Verde.
We arrive in the small airport of the island of Boavista at 16.30 and we see the last people in a row who were embarking ... "Don't worry, it's not our plane, our take-off in 45 minutes .. ." I calmly affirm myself of the trade! But it was our very own ... The last flight, and the only one of the day!
The ruckus begins!
Screams of so many poisoned people, you could hear shouts in Italian, English, Portuguese. My aunt, (travel agent), who railed against the airport manager, a couple of Cape Verdeans against another manager, two Brazilian tourists against other employees.
The plane takes off with a very wide advance ... it was probably in over-booking, but we make so much of that mess that at some point even the police arrive. Nothing changes, we continue until they too go away not knowing how to behave ...
We are without money, without food and clothes (after all, for us it was just a day trip from the Island of Sal) ...
We succeed to reach an agreement and offer us a little board not far from the airport and the option to take the first useful flight the next day!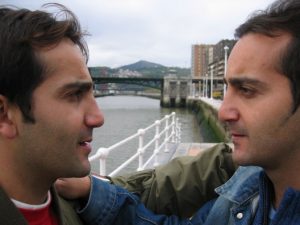 The different twins
Bilbao (SPAIN) 
Tocca a Jeff: "Un biglietto anche per me!" Cassiera: "Quanti anni hai?" Jeff, un pò titubante: "26". Cassiera: "Per te c'è lo sconto!"
It's up to Jeff: "A ticket for me too!" Cashier: " How old are you?" Jeff, a little hesitant: " 26. " Cashier: "For you there is a discount!"
We burst out laughing with tears in our eyes! Who knows, maybe they don't look so much after all!

Surprise menu
Skopije (MAKEDONIA) 
We arrive after so much pilgrimage in Skopije, capital of Macedonia; we are dead tired, it is very hot and we are looking for a nice little restaurant to refresh ourselves. Here is one that is just right for us: delicious, outdoors and full of beautiful people.
We settle down but ... the menu is written only in Cyrillic !!! We ask for help from the waitresses but nothing to do, no one speaks English ... At this point, we close our eyes and order what our fingers indicate on the menu ... we will eat what the case decides!
Surprise dishes! Very funny if it weren't for the onion salad I touched!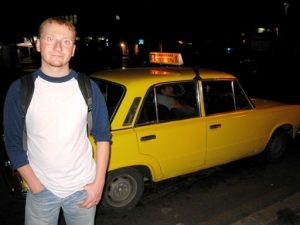 Watch out for backpacks!
Skopije (MAKEDONIA) 
During an inter rail in Eastern Europe we reach the capital of Macedonia; we are in Skopije! Railway Station Transfer - Hotel ... We call a taxi and an old and small yellow Yugo appears ... we soon understand that he could never take three boys with their huge backpacks! But don't worry, the taxi driver would never have renounced that gain, he puts the three backpacks in the hood ... half inside and half outside ...
Skopije Railway Station Transfer - Hotel ... Three worried heads, sticking out of the windows of an old Yugo fearing for their backpacks ... What tension when we stopped at traffic lights with all those scooters buzzing around our car ...

The knife at the airport
Rome (ITALY)  
During one of the numerous hand baggage checks at Fiumicino airport in Rome, when Nick passes under the metal detector we see two policemen who start to get excited. The siren starts and they tell the perplexed Nick to open the backpack and begin a meticulous search, as if they already knew what to look for, it was not a control but a real research.
After a while, they become impatient, they approach my friend and with a proud air say: " Come on, do it, hunt this knife !" (As if to say, stop it we discovered you) .
I see Nick becoming of various colors and then bursts into a: " And give him thou 'knife " handing them his backpack again. The tension is sky-high but fortunately, after several other checks, everything is resolved peacefully. The cops had a blunder! Better this way!
The Belgrade bomb
Belgrade (SERBIA)
We are in our hotel room in Belgrade, Serbia, and we are trying to cook some pasta with our gas camping stove. Suddenly the flame goes out, the gas cylinder will be finished ... " And now? How do you change? "
We try the Roscio, get up here, pull there, leave your finger, pull the spring ... at a certain point we hear the noise and the stench of the gas coming out of the can just broken ... Frightened, by instinct, we launch everything from the open window next to us (we are on the third floor) ...
Thump from below, thankfully, no one passed and we do not do great damage ...
In Italy they would have arrested us, here instead the hotel staff burst out laughing, rather they invite us to even use their kitchen! Ok: Spaghetti party tonight with everyone working here!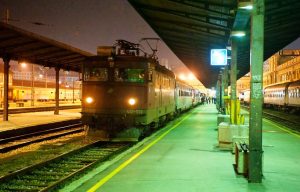 Night meetings at the station
Belgrado (SE
RBIA) 
We cross the railway station of Belgrade, in Serbia, to reach our hotel, located nearby, when two shady characters approach us and abruptly begin to speak in Serbian. Mark immediately dismisses them and continues to walk when they stand in front of him and show a card, revealing a gun. Fortunately they were policemen and wanted to see our passports. We didn't have them with us, we left them in the hotel! - " It is the end ", I think to myself, instead, these two, established that we were Italians, make a laugh and let us go ...!?!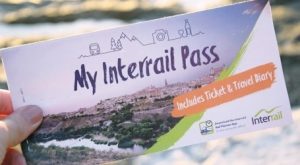 The "Portuguese" in Italy
Ostermundigen (SWITZERLAND) 
I'm in Ostermundigen, Switzerland. After more than a month of inter rail in Scandinavia, I ran out of money and, to go home, I am pretending to be Portuguese with my friend Pedro's ticket ...
Let me explain better: when you travel with an inter rail ticket you buy certain areas of Europe, there you have a sort of temporal rail pass which does not cover your country. By pretending to be Portuguese, with an inter-rail ticket bought in Portugal, if I can, I'm trying to get to Calabria, where my parents are on vacation, for free! At the same time, Pedro with my Italian ticket, is experiencing the same thrill by returning home to Oporto!
Later. It was hard, almost twenty-four hours without speaking, so as not to let me discover, but I did it! Muito obrigado!

Where we go?
Zawiercie (POLAND) 
We are in Zawiercie, a small and unknown village in rural Poland. But how did we end up? While Pedro and I were waiting for our train to Bratislava in Czestochowa station, two tramps began to harass us trying to rob us. At that point we decide to get on the first train to get rid of the two drunkards and get off at the first available station: Zawiercie.
An unknown place even to the Poles themselves. This place is not even shown on the map ...
From here there are no trains to Bratislava, in Slovakia! Then skip our project. We find out that from there we could opt for Brno, in the Czech Republic even if our train will pass by midnight, in several hours ... Let's hope so!
While we wait, warming ourselves with a good hot tea, we hear the megaphone of the station announce the arrival of a train and highlight all its stages; there is one that sounds very similar to Vienna. I run to the information desk that is about to close and ask for confirmation of my intuition. I was right and here in a few hours from Slovakia we find ourselves almost directly in the Czech Republic but we end up in Austria! The beauty of adventure travel!

"Pound my foot!"
Riga (LATVIA) 
At the disco, at the "Slepenais Exsperiments" in Riga, Latvia, while I was dancing a half-drunk guy approaches me and starts talking to me in Latvian pointing to his foot. I was alone with Pedro and I was sure that a fight would soon start.
From what I had understood: by dancing I had stepped on his foot and therefore ...
After much talk, but so much, we understand that, in reality, it was he who had stepped on my foot and, according to their customs, I had to draw. the account by pounding his. It seemed surreal to me and I wasn't sure I understood it so I was trying to tell him that everything was ok for me!
Then this character, impatient, takes my leg, makes me raise my foot, slips his foot under mine and drops my leg until he stamps his foot.
Satisfied and happy to have solved the affair, quietly, with the foot crushed, he goes away.

It's open!
Cesis (LATVIA) 
Finally my parachute opens! Long sigh of relief! But it wasn't over there!
Krists had told me that it could happen that the threads got tangled up, the so-called "screwing". If it happened I had to: stay calm, close my eyes and the parachute would do everything by itself! (textual words of my friend) Oh well, let alone if it happened to me! But how would I have noticed? It was enough to bring the head back, if I had found any impediment then it had happened!
I don't believe it ... it happens to me! I try to reassure myself when my parachute begins to make me spin around until it finally opens completely and slows my fall!
I've done it!

The truck and the plane
Cesis (LATVIA) 
Krists invites us to fly in a plane he flew.
It is a Russian four-room apartment. In front there is my Latvian friend and another pilot, behind: me and Pedro.
Krists makes us take a very pleasant peaceful flight. We did three touch and go without problems, even at a certain time, to take a picture we also remove the seat belt and try to fasten it.
I can't say the same thing about his friend. Start immediately to do stunts in flight. First point the sky at 180 °, then, with the engine at idle, the plane, by gravity, overturns and falls into a dive ... But our belt was not fixed well and therefore we are "thrown" upwards giving a painful head to the roof! What a fright and how bad!
Last thrill the landing. We cut a freeway perpendicularly about two meters from the earth, all the while a truck blasting crazy has come up ... But who made us do it?

The Finnish ferry
Helsinki (FINLAND) 
We have been in the port of the Finnish capital for a few hours now Our ferry to Tallinn is still stopped here while all the others are leaving ... The megaphone warns us that: " If the problem is not resolved by ten o'clock ... They will try to solve it! " What do you mean?
Some time later, the megaphone again informs us that there is the possibility of changing the ferry since the damage had not yet been repaired! Panic on board! Everyone rushes towards the exit doors, almost as if he were sinking the Titanic, and we, when we understand what is happening, remain among the last in line!
In spite of everything, we manage to slip into the first and wait for the doors of the new ferry to open. When we are finally about to enter we are stopped because our ticket was not good for that company! But there is no problem, we just have to go back to the desk and let us change it for free. Pedro takes charge of the change! Hundreds and hundreds of passengers pass but my Portuguese friend seems to have vanished into thin air ... In the end I remain alone with a steward, a hostess and our two backpacks!
Very angry, I started to argue with the steward who hadn't let us in and he very kindly went to look for Pedro and blew up the long line that had formed in the meantime for the ticket change ... But the seats were finished. Either we pay an astronomical amount for the first class or we wait four hours for the next ferry!
We await and notice a couple that, running towards a half-closed gate, tries to embark at the last moment! Pedro looks at me and runs there, I follow him. We climb over a gate and we are inside. We turn around and notice something familiar! It was the same ferry that we had abandoned an hour before because it didn't start! Oh no, point again and start again. But this time the damage is repaired, it starts again.
All of a sudden the hated megaphone says something in Finnish. We all see ourselves rushing to the lower floors. Oh God, what else has happened now? To apologize for the delay, the company offers everyone a free lunch at the " restaurant! Finally good news!

"No one will kick us off the train"
Koln (GERMANY) 
We are traveling in a night train in Germany during one of the many inter rails. We settle in a comfortable compartment when two railway controllers enter soon. Nazi style tells us that without a reservation we will have to travel to the last compartment, where the bicycles are crammed. No problem.
There we find a couple of Finns and a Danish. Over time a Norwegian, an American and an Indian arrive. We were calm and it was good between inter railers. Just as I say: " Boys, don't worry, no one will drive us off the train…. It will be more than a bicycle! " The door swings open and a controller, SS Nazi style, enters, says only two words:" No reservation? Out! " At the first station we are" thrown out "in a bad way by the train, as if who knows what big crime we had committed!
We're in Dusseldorf, it's four in the morning. The police approach us as if we were criminals, we know that the reservation (six poor marks) we didn't have because we had to buy it 24 hours before and we weren't even in Germany the day before! Stunned, the whole group sadly leaves, but we don't lose heart. We are looking for the first train to Hamburg but we have to take it to Cologne (from where we started). We return with another train to the starting point. We pay a very expensive booking and wait several hours for our train! Thanks Germany!

The two old men
Cerro Maggiore (ITALY) 
My aunt shows us two old men, her two neighbors. One of them is 85 years old and persists in talking to Pedro in Italian. I intervene: " Excuse me, Pedro is Portuguese, he does not understand Italian! " He looks at me a little perplexed and continues to chat with Pedro in our language. Again I try to explain, this time miming and also making gestures pointing to the ears.
Maybe I succeeded! When he exclaims triumphantly: "Ah, sorry, poor thing! It is deaf! "

The last wave
Lavra (PORTUGAL) 
How romantic the beach is when the ocean is stormy! It is the end of December and I am in Lavra, Portugal, in front of the Atlantic Ocean.
I see a large rock not far from the beach, surrounded by water but every now and then, when the waves, after striking the shoreline, receded, they left a short free stretch that, with a click, allowed you to reach the rock without getting wet. What an idea. I decide to take a picture right on the rock. I organize with Pedro, we calculate the right times and I prepare to run at the first useful opportunity.
The waters recede and I run fast on the rock. Jump. All right. I keep myself in balance, I am above, I did it! I turn for a moment to admire the majesty of the Ocean but ... I see in the distance a great wave that is approaching quickly, too quickly and threateningly towards me ... I feel lost. It breaks on the rock, a second later I'm soaked! From the head to the feet. Fortunately, after a while the water withdraws. Jump and go on the beach. While Pedro was lying on the ground dying with laughter, sadly, with his tail "wet" between his paws I go home ...
The sandstorm
Lavra (PORTUGAL) 
While I was looking for some shells on the shoreline of the Portuguese beach of Lavra, in the distance I see a large dog that emerges from an abandoned house and runs towards me barking; me: quiet for the proverb / theorem: " Can that barks does not bite ", I continue my collection almost undisturbed ... Suddenly it stops, stops barking and runs away afraid, this scene surprises me a lot but I don't even have time to understand what's happening when a sand storm hits us. We end up in a real air horn. What a pain. I had the feeling as if they were pricking me with little pins thousands of times a second ...

Watch shifts in the night train
Bucarest (ROMANIA) 
We are in Romania during one of the many inter rails. Let's see if I can fall asleep even if it would be better to avoid seeing that all these gypsies get into the compartments and steal everything. And it also happened, but luckily we were half awake "...
In the middle of the night, it was Mark's watch; Luca was half asleep, suddenly the door to our compartment opens a little and a dirty little boy's hand slips in towards one of our baby carriers. Mark instinctively punches him on the arm and this hand disappears in the blink of an eye. I hear Mark exclaim to himself: "Fucking gipsy!"

The train split in two
Istanbul (TURKEY) 
We are waiting many hours for our train that from Pythion, the Greek border, will take us to Istanbul! After the Greek border the show changes in every sense. First of all they have reserved for us the first wagon, the other nine for the Turks, but while we are 17 in a wagon for more than 50 seats, they are hundreds and hundreds, tight as sardines. There is an armed soldier who watches over the door of our wagon, they cannot enter here. When the train stops at the various stations, the whole crowd first notices our empty wagon and then has to pile up in the others, this fact worries me a little. Many look out the windows and stare at us insistently. What a not-so-comfortable situation!

The backpack of the Turkish guy
Athens (GREECE) 
The train arrives for Pythion, the Greek border with Turkey, and we quickly and furiously settle inside. Tarenc, our Turkish friend, puts his backpack on the seat and disappears.
The train is about to leave but no sign of him. We try in every way to delay the start but in vain ... Indeed we succeed but only for a few minutes ... After which the train leaves but without our friend on board, at least we thought so ... Instinctively, Luca grabs our friend's backpack and, convinced that he was still down, he throws it to a controller on the ground.
A second later Tarenc appears quietly.
Luca collapses on the seat with a very pale face ... General embarrassment. We immediately accompany the Turk to a controller who advises us to get off at the next station, return to Athens, pick up the backpack and wait for the next train: at midnight! Sorry guys, we wanted to help you!

"Are you sure it's ours?"
Irun (SPAIN) 
We are in Spain, not far from San Sebastian. At 4.34 pm we had the train to Nice.
At 16.25 hours a train stops right along our track, we go up and this immediately starts again.
Sure it's the right one? "Strange that it starts 10 minutes early (usually it's the other way around)! I think we were wrong! Panic. We go down to the first station, and on foot we run backwards along the tracks to our departure station, we can take our own for a breath!

One night in the park
Dublin (IRELAND) 
We arrive in Dublin in the middle of the night and do not know where to sleep ... We are without money.
That's enough! We will pitch the tent here, in this public park ... 
What a nightmare night!
For about three hours we could not sleep, on the contrary, we lay down without a sleeping bag, clothes and shoes and even with a knife in hand ...
From time to time I heard rustling noises of footsteps approaching our tent. It's Friday night and all the local teenagers are around drinking, getting drunk and partying.
Takx sleeps saying, " If something has to happen, either sleeping or awake, the same happens! " I don't think so and I watch.
Finally it's morning, a man approaches us and says: "It is not allowed to set up tents here ... Two weeks ago two boys were stabbed right here" ... Via

On the top of the hill
Thurso (SCOTLAND) 
Once in Thurso, this city, the terminus of the United Kingdom, before the Orkney Islands and chosen precisely because it is the last city north of Scotland, we decide to camp on an immense green expanse where the colors of the igloo tents scattered here and out there; there are Harley Davidsons parked next to some tents, children are playing near their campers ... We will mount our tent at the most solitary point of the camp, just behind a ravine overlooking the North Sea ... We will spend the night here ... In truth I wanted to pitch our tent on the beautiful beach right at the base of the ravine ...
[Editor's note The next morning, at high tide, that little beach had disappeared completely, again this time it went well!]
10% discount with the code: TRAVEL10
This error message is only visible to WordPress admins
Error: No feed found.
Please go to the Instagram Feed settings page to create a feed.
Latest articles from the world